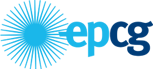 About us
Elektroprivreda Crne Gore AD Nikšić (EPCG) is a national energy company established by the decision about transformation of JEP Elektroprivreda Crne Gore Nikšić, No. 1001-2772/1 dated October 16th, 1998 for the purpose of carrying out energy activity, i.e. electricity generation and supply.
EPCG Vision
Leader in the economic development of Montenegro, competitiveness at the European market and active participation in new market challenges through investment in people, green energy, new technologies and capacities, maintenance and optimum use of resources and digital transformation of companie.
EPCG Mission
Reliable and quality generation, electricity supply and trading in addition to full compliance with requirements and needs of our customers and other interested parties, improvement of the environmental care and high degree of corporate responsibility.
Improvement of business operations by compliance with and application of highest professional and ethical standards, responsible behaviour while performing activities in line with applicable regulations, compliance and provision of trust both in EPCG as well as in broader business environment.
Strategy
EPCG is being developed with the aim of improving the relationship with its customers, employees and other stakeholders, to meet the requirements of standards in the areas of business quality, occupational health and safety, environmental protection and social responsibility.
General objectives
Safe and reliable supply of customers with electricity;
Safe and efficient generation;
Increase in business efficiency and effectiveness;
Satisfied customer;
Increase in energy efficiency throughout all generating segments;
Efficient energy management – trading with electricity and resource management;
Attractive employer to accumulate human potentials;
Compliance with ecological standards;
Compliance with safety standards and occupational safety and health;
Presence at international markets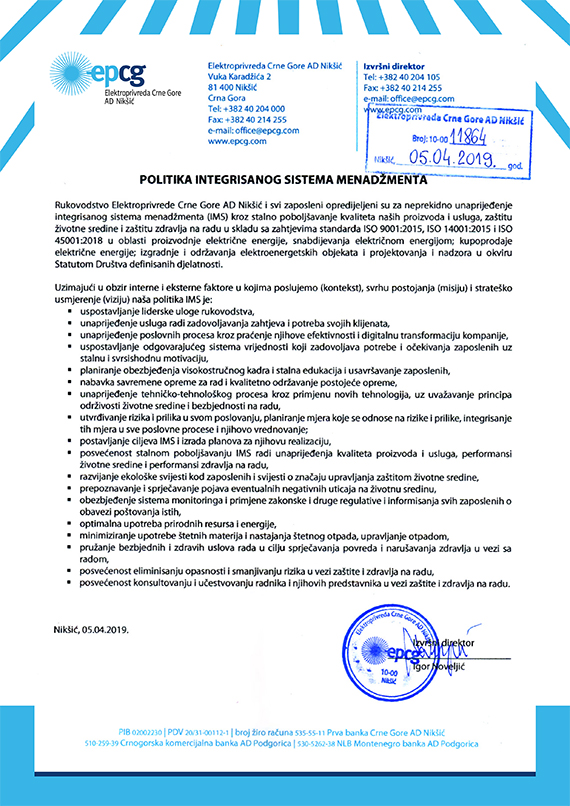 CERTIFICATES:
EPCG is certified according to the requirements of international standards:
Certification is of great importance for both EPCG and the state of Montenegro, because through the implementation of the mentioned standards we have improved our business and introduced the company into a number of modern companies that base their business on standards.
With its certification, the EPCG has aligned its operations with European legislation. This has opened up more favorable business opportunities for cooperation with large corporations that are ready to invest in the electricity sector.
Other info:
PIB: 02002230;
PDV: 20/31-00112-1
Production and supply of electricity are the main activities of the Montenegrin Electric Enterprise.

In the language of numbers, we show you the most important information about our production and distribution capacity, employment structure ...